Hello!

Well, at the urging of my friend Jen, I will post some pictures of myself. Jen said she would like to see who she is talking with, so here ya go Jen! It kind of scares me that you have me pictured in your mind - yikes! =) Please, keep in mind that I absolutely hate having pictures taken, hate it, but here goes. I kind of had a tough time, because I hate pictures so much, there aren't many of myself! I don't know how my kids would feel about me putting their pictures on here, so I'm leaving them off for now. But I do have three children, two daughters, my oldest is 20, my middle is 18 and a son, who is 14.

This first picture is a picture of my husband and I on our wonderful trip to Aspen and Breckenridge, Colorado last Fall. Boy that was fun, it's so beautiful!




This next picture is a picture I did a lot of playing with on 'Picnik', my sister in law took it of my husband and I last summer at the lake.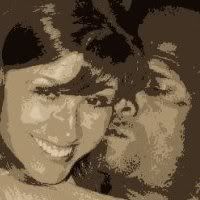 And this last picture - look at this! OMG - what dorks! These are the girls that I work with every day at the High School where I'm a secretary. This picture cracks me up - we had a teacher that was leaving at the end of last year, she was moving to another location, and she wanted a picture of us girls, and told us to 'strike a pose'! Funny!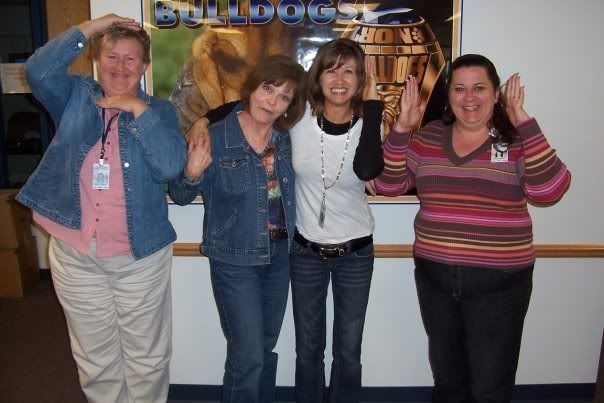 On the far left of this picture is Connie, next is Chris, and then myself, and then Laurie, yes another Laurie, it gets confusing on the phones! Both Chris and Laurie are leaving us at the end of this year. Chris is retiring and Laurie's husband was transferred to Montana. We hate to see them go! =(

So, that's a little bit of visual info for you all! Now, I want you to just imagine this! Today was stretch day on our workouts, well, by the time I went to Wal Mart, and spent sooo much money on healthy foods, got all of that put away, all I wanted to do in this cold, damp, foggy weather was to put my jammies on, so that I did. Before I stretched - is it a sin to exercise/stretch in jammies? Anyway, that's what I did, but I have to share this with you - when I was doing the downward dog, I got a shot down my shirt - Oh My Goodness! GA - ROSS!!!!! My stomach! Aaack! Here I have been feeling so skinny lately, but then I got a shot of my stretch marked, blobby, stretchy, loose lump of a stomach just hanging there in plain sight! Yikes, that is something I don't ever, ever want to see again!

Well, I suppose I will close for now - my battery is about dead, time to plug this baby in!

I may be back tomorrow - I do know one thing for sure - tomorrow I'm going to clay and I can't wait!!!!

"Try Your Best, Forget The Rest"

♥Lori